3 Best Purchase Order apps for small business – Purchase Order Maker App: Purchase Order form is quite an important document for a small business perspective. Having a clean and sophisticated designed PO Order Template gives the business a professional outlook. After the approval of the Purchase request or Purchase requisition form from the concerned department, the business proceeds to the next course of action to make a purchase order form by following the standard Purchase Order format and send that to the supplier. At the early stage of a business, it may be a daunting task to create a standard Purchase order if you are not aware of the Purchase order format. This is where Purchase Order apps could make your life simple.
You can easily download these apps on your smartphone and customize at your own will according to the business needs. We have listed here 7 most useful Purchase Order Apps which are capable of serving almost all small business needs.
#1 Purchase Order PO PDF Maker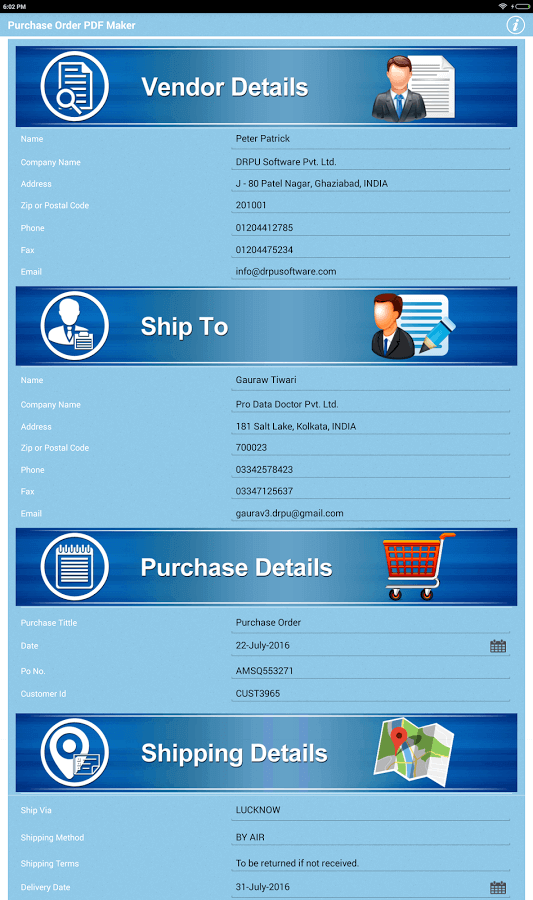 Purchase Order PO PDF Maker is quite a simple Purchase order app out there in the app store. This easy to use PO make app will instantly create Purchase order upon completing the details in the form. After making the Purchase order you can send to the phone or take a print out for further use. There is an option to save the created purchase order for future use as well. You can use the same template and even order detail just by changing the PO Order Number and issue a new one.
Key Features of Purchase Order PO PDF Maker
Support Non-English Language other the default English and even Unicode characters Could be used.
All fields could be customizable.
Sales Tax info could be entered
Automatic Population of Subtotal and Amount Total
PO Sample Letter Form
Footnote or special instructions Could be added for specific instruction.
Pro:
Easy interface to get accustomed to and easy to use the app.
Fast processing of data
Cons:
Crashes sometimes
No option to include issuing company Name
No Rotate option only works in portrait.
#2 Inventory, Purchase Order, Sales Order
This extremely useful productive app by Billion Hands Technology has the quality to all serve all your small business billing related needs. Apart from making Purchase Order, Sales order it also keeps track of the stock and gives you a clear idea about inventory management. If you are a small retailer this app could be quite helpful at the same time as it gives you live inventory status along with purchase and sales order queue.
key features of Inventory, Purchase Order, Sales Order app
Make Purchase and sales order by using the predefined template.
Gives you a clear idea of Inventory status.
Can take back up of inventory data in Excel/CSV and also can Export/import those.
Automatic Inventory valuation
Barcode Search option is available
Can Email/SMS PO Order to the Suppliers instantly
An extensive report for every option is available for further use.
Pro:
Keeps Inventory status in a most simplistic way.
Plenty of useful features.
Cons:
Export report to excel is paid subscription
All major features are only available for a monthly paid subscription
Browser capture images cannot be saved sometimes.
#3 Simple Purchase Order Apps
As the App name goes it is really a very simple app to make the purchase orders for your business. Could be accessible for multiple devices as they have the integration facility. So in one go, you can get your whole team in single steam which will help you to coordinate your purchasing system quite efficiently.
Key features:
One can easily approve or reject PO
Invite colleagues functionality
Easily can switch between companies
Live PO Status available.
Pro:
Quite a simple app to use.
Cons:
According to the customer feedback, they gather details and call!
Apart from these 3 apps listed here, there are a couple of other Purchase order Making apps available in the Playstore with little to almost no download. Obviously, no real feedback is available from any real customer and even we did not find any of those useful as of yet. Though we will keep our eyes on the Purchase Order making app listing and will add to this list whenever we find anything worthy.