Electrical Contract Template is used when a homeowner or business owner wants to make a contract with an electrical service provider or electricians. This agreement roughly outlines the scope of work, time duration, quality and nature of work, payments structure and cost, insurance coverage, along with additional terms and conditions proposed by either party.
Today, every mechanical object we look into runs with electricity. Without electricity power, it is nearly unworkable to lead a normal life. Almost every object is connected through electricity. Thus, electrical power is the utmost holder of significance.
A Service provider that promises to provide the line of electricity is of major concern. Different kind and forms of electrical connections exist in our nature. It is to choose which one to have and how much to have. It involves minute details and discussions with the electrical service provider and to know what you need.
The electrical service provider you hire must be in equal terms and conditions with the one who is opting for it. No matter what kind of exchange of trade it is, one must always walk through a contract.
One of the safest approach to know whether they actually provide as per your requirement has to be assured through a written and signed contract. Before any arrangement is made, one must see whether the terms and conditions of both the party are properly met. If you need to engage in frequent Electrical Contract, then using a ready made electrical Contract Template could be extremely beneficial to execute new contact just by changing a couple of details.
Let us start with the theory of an electrical contract, and we would also learn about the making of a template.
What is An Electrical Contract?
A document crafted by electricians stating the terms and conditions involved in the electrical services has to be provided to the potential client. Such contracts are known as Electrical contract.
An electrical contract is formed to set out the scope of work and other details concerning the service that are being provided by the professional electrician.
This contract is made majorly to avoid any kind of misconception and misinterpretation of any verbal communication. It is not something new in the market as drafting a contract is considered as essential as it safeguards the interest of both the service provider and the service receiver.
Electrical Contract Template Sample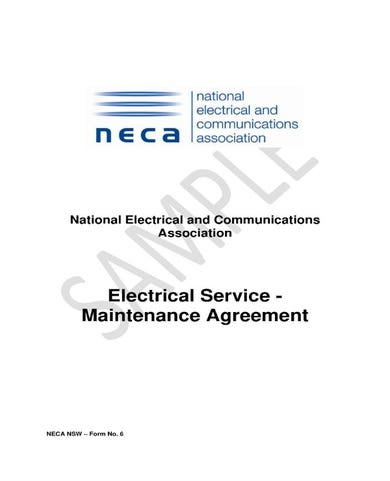 Engineering Service Contract: Electric System Design and Construction

Agreement

Template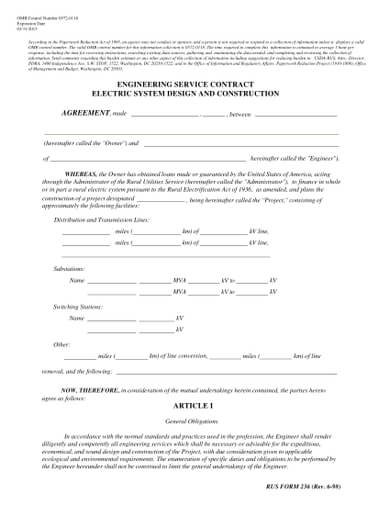 What is An Electric Contract Template Made For?
Be it any kind of template; it holds the same meaning as all. A template is a form of a layout or format designed previously to fasten the later works. It is a readymade form created by the respective companies for their time management.
Likewise, an electric contract template is majorly crafted by an electrician. Whenever any prospective client appears and takes the deal to the next level, without any further delay, they immediately make the contract using the template.
The necessary fields were already mentioned in the template, the only task left is to fill the spaces with the name, scope of work, modes of payments and other related information but with equal terms of the agreement.
Electrical Contract Template Format 
Electric System Design and Construction Agreement for Engineering Service Project 
Is It Essential To Form a Contract Template Before Diving Into The Work?
Similar questions as this must have crossed your mind at least once. It does not have any effect as who the reader is; it may be a professional electrician or maybe a client.
But prior to answering this question, it would be valid and fair if you ask questions to yourself first.
Ask questions like:
For clients –
Do I know the contractor well sufficient to trust him blindly?
Is there any letter of Assurance provided by the contractor?
Have I reviewed every customer the electrician has once worked with and got their reviews on them?
What if the electrician leaves the work in a midway?
Do I have any letter of evidence that would prove my point?
For electricians –
Do I know the client well enough to trust blindly?
Are we well familiar with the character of the clients?
Is verbal Assurance enough for our company to rely on them?
If they appeal to pay on an installment basis without having documented evidence, will it be safe for our company to deal with such kind of clients?
What happens when the client leaves the payment in the Midway?
Are we ready to take up such high-risk factors?
As you ask this question to yourself, the answer would be in front of you.
Electrical Agreement Contract Template For Major Construction Projects Template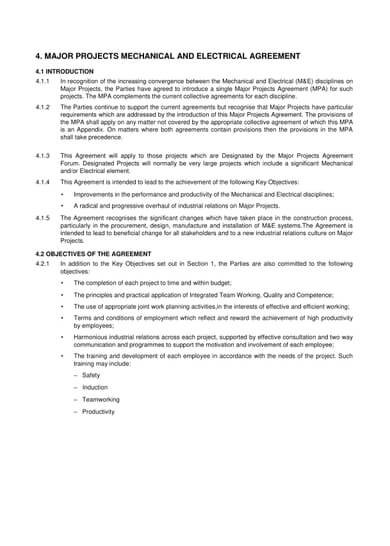 What Are The Benefits Of An Electrical Contractor Template?
As an electrical contract template is made before the actual work has to be done, it saves a lot of time and sweat.
It does not provide a good image if you or any of your employee starts making the contract in front of the customer, drawing in quite an amount of time. Thus, a prior made template help in maintaining a public image.
1. A good and effective electric contract helps both the contractor as well as the client regarding the service they are going to exchange.
2. It is better to keep the kind of services in a written form to avoid in misconceptions by crafting a s.
3. Additionally, it acts as evidence if either party breaches the contract.
Sample Electrical, and Technical Services Agreement Contract Template
Electrical Installation Contract Sample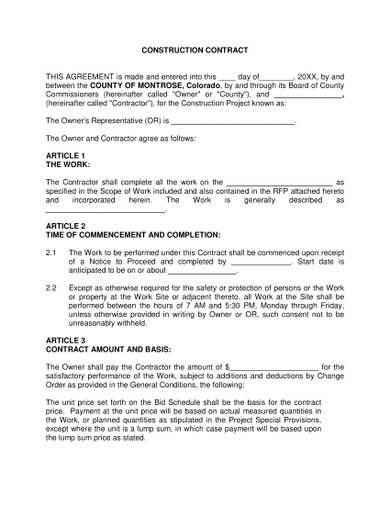 What are the items that include in an Electrical Contract Template?
An electrical contract must cover few compulsory elements to make it effective and workable. Or else it would be of no use and if any misconception occurs in no party would be able to take any legal steps. So better to include these points within it.
Elements such as:
• Name of the company
• Name of the service provider
• Date of issue of a contract
• Company obligations
• Client obligations
• Scope of work
• Plan of action
• Payment Structure
• Mode of payment
• Terms of warranty
• Terms and conditions
• Compensatory amount
• Conditions if the contract is breached
• Signature of both the client and the service provider.
Above mentioned elements are the one which must be included in a contract template as per their obligatory rules and requirement. Such points are:
• Few statements of the introduction of the contract
• Kind of contract
• Exclusions
• Terms of payment
• Additional charges
• Cases in which additional charges will be made
• Liabilities
• Limitation of liability
• Risk and ownership
• Terms of insurance
• Specifications on the date of commencement and completion
• Steps to be taken if the work doesn't meet the needs of the client.
• Warranty
• Termination
• Disputes
• Conditions of copywriting
• Legal steps to be taken
• Signature of two other members other than the service provider and the client acting as evidence.
Electrical Contract Agreement Format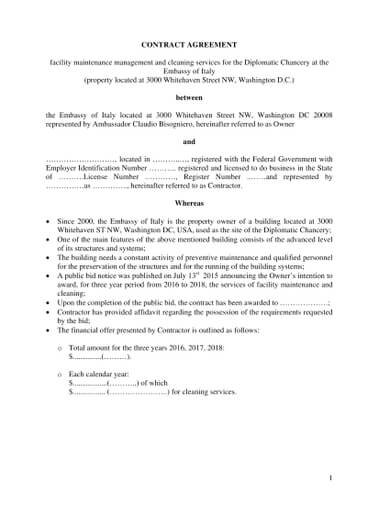 Electric Supplier Service Agreement Template ( Agreement between owner and electrical contractor )
How to make an effective electrical contract? or What are the guidelines to follow while making an electrical contract?
Prior making an Electrical Contract Template, one must know the course of processing an effective contract. Making a contract is not as simple as crafting a template as it involves a lot of discussion on the demands and preferences of the business.
Considering the necessity and the potential of the service provider, along with putting everything in a stipulated budget, is quite a task. To make it a bit simpler and easy to process, here are some guidelines to follow.
We have comprehended the steps as much as possible and the rest depends upon the perception of the reader when crafting an Electrical Contract Template:
1st Step – Proper communication with clients.
Good communication is an essential element for a contract development. Building a contract depends upon several factors that include communication. There must be a discussion between the client and the service provider on the topic of the kind of services, possible cost, labor charges, risk factors, payment mode and other information related to transactions.
At the first meeting, a discussion concerning the basic things must be completed and then on extend the topic of discussion.
2nd Step – Estimation of the service cost
Unless an electrician provides a proper estimated budget, there is not really a minimum possibility of finalizing the deal. So past a basic discussion, one must proceed towards the cost and the charges to be made by the client for the kind of services they would provide.
Obviously, there would be a percentage of negotiations and obligations, and even after that, if both the parties come to a conclusion and agree to each other's conditions, the deal could be finalized. The fund is the key element that works here so move directly to the next step to clear out the discussions and provides a proper estimate.
3rd Step – Make the contract
Once you have all information concerning the services and requirements of the client, proceed towards the making of a contract. In the presence of the client party and the service provider, the contract must be prepared and properly signed.
Keep it simple, basic yet informative enough to clarify the conceptions of both parties.
Put all the conditions, obligations and clauses concerning the services.
First, list down the scope of work.
Secondly, move towards the payment structure.
Thirdly, write about the terms and conditions.
4th Step – Proofread
Before signing the contract, make sure you have a finishing look and read each line of the contract. Once you sign, it would not be fair to raise any questions or have accusations against the opponent party.
It is often seen that formatting and grammatical mistakes take a person to walk the off beam direction and the disagreement occurs.
5th Step – Finalize the deal by signing the contract. Use full signatures along with the date and finalize the date. And all the procedure become easier when we use a ready-made Electrical Contract Template.
Free Electrical Contractor Proposal Template
Format of A Standard Electrical Contract Template
Title of the document
Name of the company
Service provider name
Name of the client
Date of issue
Scope of work
Other details concerning the work
Estimated budget
Mode of payment
Down payment
Terms and conditions
Compensation
Breaching of contract conditions in a paragraph
Warranty
A line of assurance
Signature of the client with a date
Signature of the service provider with a date
Standard Format of a General Conditions of Electrical Installation Contract Template
Electrical Services Subcontractor Agreement Form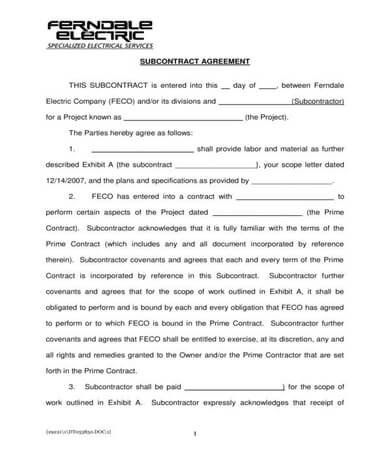 SAMPLE OF ELECTRIC CONTRACT TEMPLATE
Electric service contract design and construction

Contract number:

The agreement is made between. [client's name] and …..[service provider's name].

The letter of agreement is made in the presence of the respected client and the service provider with equal coordination and cooperation.

Name of the client:

Location of the client:

Nearest Landmark:

Line of electricity:

Work order number:

[Scope of work]

Metered connection:

General connection:

Number of meters:

Number of sub meters:

Number of rooms:

Electrical appliances being used:

Cost of materials:

Funding details:

Estimated budget:

Terms of payment: cash/card:

Installment payment:

Down payment:

Extra installation charges:

The warranty period of goods and services:

Company's obligation:

Client obligation:

We hereby provide a statement that both the party equally agrees on the terms and conditions as stated in this contract.

Signature of a client:

Date:

Signature of the service provider:

Date:
 Closing Note:
We conclude our content on electrical Contract Template by closing this section on the theory of electrical service contract and we hope that it becomes useful to everyone.
Creating a template is quite an easy task. It doesn't involve any technical details and minute elements. Just open a document in Microsoft Word and type all the necessary elements as per the requirement of your company and save it in your device.
Whenever a client approach to your door and finalizes the deal, open the document, fill in the details and print it out.
We have tried to share information concerning this essential form of energy that we need in every corner of our being. Not just about livelihood, if you look further, every establishment requires electricity to run. Starting from opening a door to closing every connectivity, electricity is associated. Forming a new establishment, building a new apartment, segregating the house line or installing new internet connection-each of them requires prior discussion with the service provider. As we know the worth of electricity and its flowing nature, we must have a thorough understanding of this service and its provider. So make sure to use an Electrical Contract Template to efficiently craft Electrical Service Agreement template.