Performing a regular vehicle checklist can be a lifesaver. If you own a vehicle, you should run a routine performance check of your vehicle to have an up-to-date understanding of the vehicle condition. This way, you can significantly reduce the accidental breakdown issue.
A professional inspector can perform the initial inspection and handover the vehicle condition report, which contains the car's defects and mechanical tissue, by following a standard guideline called the vehicle checklist. Inspector also provides insightful details of the overall vehicle condition and a list of recommendations to maintain the vehicle condition safe and healthy. By following the checklist guidelines, the car owner, drivers, or the mechanics can perform a regular safety check.
What Is a Vehicle Checklist?
As the name suggests, a vehicle checklist is a checklist intended for conducting routine vehicle maintenance or safety check. Depending on the vehicle category and intend, there are different kinds of vehicle checklists, such as maintenance checklist, inspection checklist, safety checklist, etc.
Vehicle Checklist Template
Vehicle Checklist Form Template
Advantages of using a vehicle checklist
A vehicle checklist is mainly a standard guideline by using which you can perform a routine checkup and maintain an excellent vehicle condition.
When performing a routine checkup, if there is any issue found with the vehicle's parts or functions, necessary action can be taken to address the issue. Having a vehicle checklist and performing routine checkups is a good practice and can also work as significant evidence while buying for selling a second-hand car.
Here are Some of the advantages or benefits of using a vehicle checklist while performing routine vehicle checks.
The vehicle checklist contains all the crucial points and parameters that need to be inspected. By following the list, the Inspector makes sure every part and function of the vehicle is checked. It also eliminates the chances of missing any important aspect of the routine checkup.

The primary objective of having a vehicle checklist is to ensure the vehicle's optimal performance. Why going through all the checklist points, the Inspector can access vehicle condition and conclude required maintenance replacement of a specific parts repairment when necessary.

One of the main benefits a vehicle checklist provides is keeping the vehicle condition optimum by eliminating accidental breakdown chances, which significantly increases the vehicle's safety.

Having a standard Guideline in the form of a checklist always makes the process easier for both the Inspector and the vehicle owner. It also ensures that there is nothing left to be inspected.
Vehicle Inspection Checklists
Important compotants of a standard

vehicle inspection checklist:
You may have one of the world's best products, top-notch packaging service, and even excellent customer relations. Still, if your delivery vehicle fails to deliver products on time to the customer due to sudden breakdown, that's a pretty bad setback.
The situation can be even worse if you do not maintain a regular vehicle checkup and literally have no clue what could possibly cause a sudden breakdown. Having a vehicle checklist and performing routine checkups can significantly take the edge off a sudden breakdown. Here are the essential details every standard vehicle maintenance checklist should have:
Vehicle inspector's Details:
This part is quite critical. You should include the vehicle's inspector details that you will have a reference who performed the inspection in the future. As well as it will keep the inspector on edge and he will refrain himself from not cutting corners during the examination.

Your own detail as the vehicle owner audio operator:
The next thing you should include on your car inspection checklist is the vehicle operator or the owner's detail. Though it might be quite obvious, having your name mentioned on the checklist will work as a valid  reference if you are going to sell your vehicle.

Your vehicle details:
This is probably the most important part of a checklist. Make sure to write down all the details of your vehicle that you can have sufficient reference to perform the check.
Vehicle Maintenance Checklist in Word & PDF
Vehicle Parts to include in Vehicle Checklist
As a car owner, you should make it a point to carry out regular vehicle inspection to ensure the vehicle is always in excellent working condition and safe to be on the road. An efficient inspector can only provide the highest quality vehicle assessment, so while choosing an Inspector, you should not settle down anything but the best.
The expert inspector will assess all the car's primary function using a standard vehicle inspection sheet. Here are the list of parts that should be checked:
Overall Tyre & the Air pressure Condition 
Battery
Engine oil
Steering and suspension
Safety lights (Both Front and Rear)
Windshield wipers
Up-to-date Vehicle documents
Transmission
Fluid levels
license plate
Engine's Overall condition including Noises
Leaks
vehicle's Exterior Body
Engine belts and hoses
Overall Engine Condition
Exhaust System
A thorough inspection of all the aforesaid vehicle parts would ensure car safety and optimal performance. An inspector's job is to carefully check the listed car parts and conditions and give the car owner feedback. After performing the inspection, the inspector would hand over the list of recommendations like changing a part, repairing or servicing any particular vehicle parts, etc. The owner's duty would be to follow the instruction.
Vehicle Condition checklist:
Buying a car is always special. Does not matter if it is a new or used car. If you plan to buy a used car, a thorough inspection is necessary to ensure the vehicle's working condition. A vehicle inspection checklist could be a useful instrument to ensure every part and the vehicle's overall condition is carefully checked, and nothing goes unnoticed.
Vehicle exterior parts inspection checklist:
1. Check for scratches and dents.
2. Check the glass panels Windows and window screen.
3. make sure suspensions are in good condition.
4. look carefully if there is any frame damage
5. Check everything which is Under the Hood.
Interior parts inspection checklist
Check carefully if there's any stains, rips, cigarette burns on the upholstery.

Make sure the engine parts are in good condition. Ask for expert advice.

The car's emergency brake

The steering wheel and how stable is the alignment of its cables.

Battery level and operation
One of the best ways to find the car running condition is to take a test drive. Take a mechanic with you. An experienced mechanic will understand the car's condition just by going for a spin.
Vehicle safety checklist
It's a very healthy practice to perform an essential vehicle safety checklist now and then. Though it is quite apparent, we tend to overlook the fact it is critical to run a safety check to avoid an unpleasant surprise that can literally save our lives. A routine inspection at a regular interval can also help us to prevent major breakdowns resulting in money and time-saving.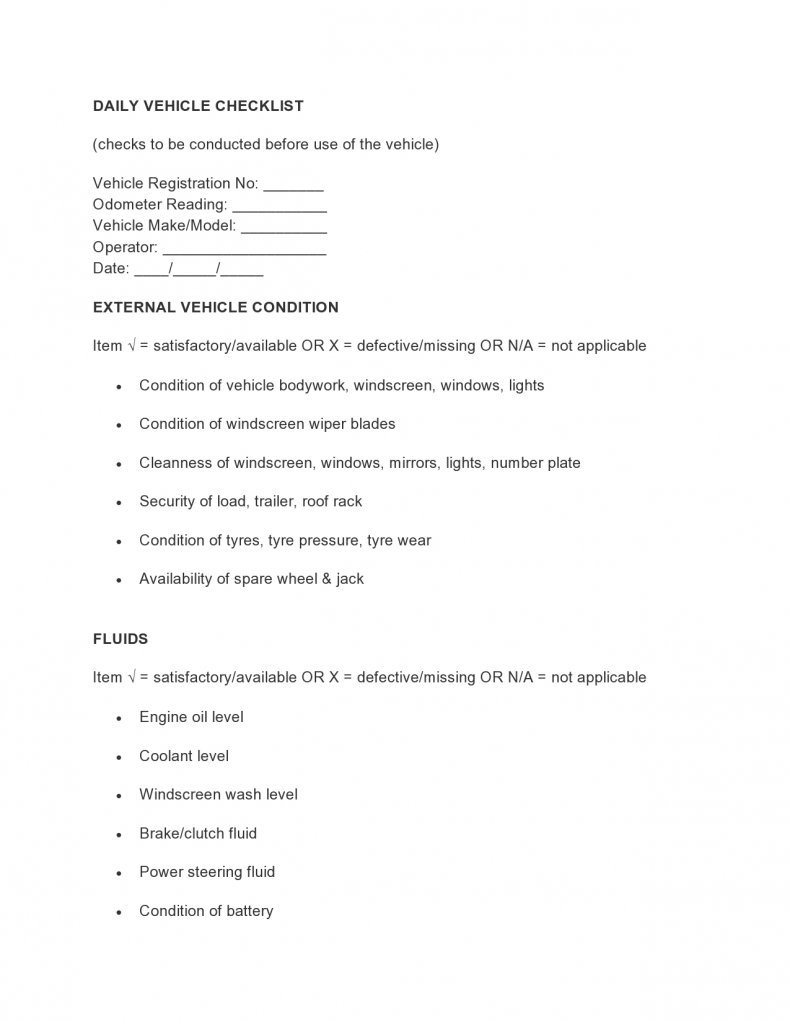 Simple Vehicle Inspection Checklist
Vehicle Quality Inspection Checklist
Performing a routine vehicle checkup is the key to keep and the engine safe & healthy. The car owner should make it a point that they do not miss performing regular checkup. Having a handy quick-to-go-through checkup list helps a lot to check all critical parameters in a glance before starting the engine for a drive.